Comments Off

on The biscuits, the bacon and the long lines return to Bryant's
The biscuits, the bacon and the long lines return to Bryant's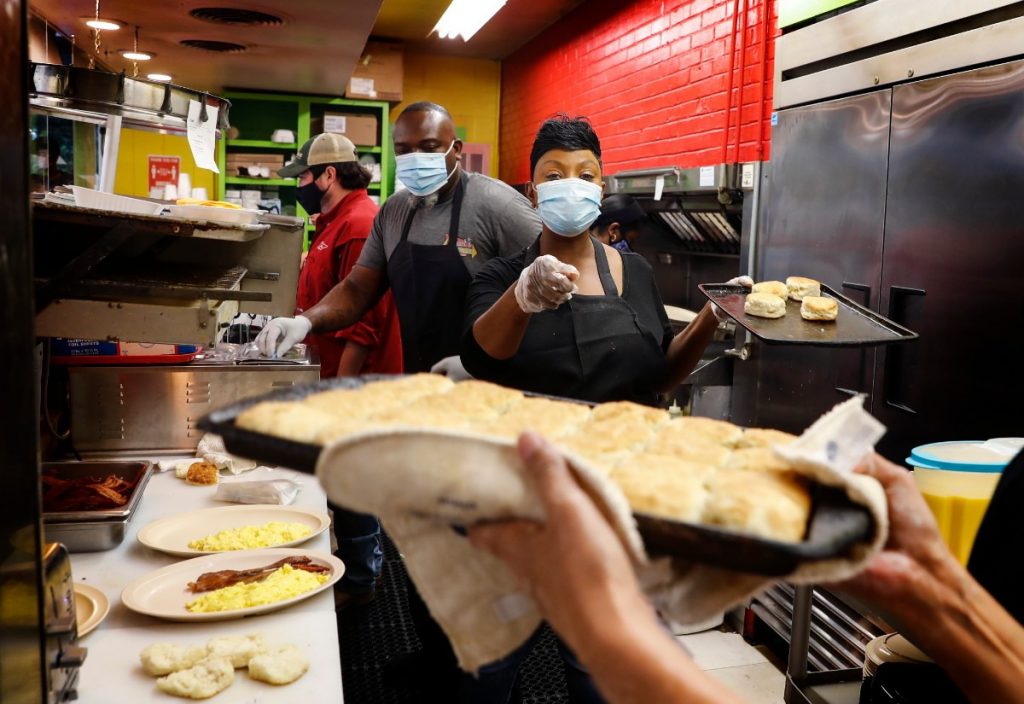 Bryant's Breakfast reopened at 5 a.m. April 14, and longtime employee Diane Ellis was there at 4:45 a.m.
"There were people already lined up," she said. "Police officers were here, the regular customers were here, all standing and waiting."
Ellis is the smiling woman (you can tell it even behind her mask) who knows everyone's name.
"I stand right here in this area," she said, working in her station to her left of the cash register. "I see everyone and today I bet I've seen 200 people that I know. Molly, Mary, Jack, Jim, Courtney, Sarah — I don't know. Lots of them. Maybe not 200."
Around 9 a.m., about 250 people had waited in the rain to get their eggs, pancakes, crisp bacon, cinnamon rolls, and of course, their biscuits.
Amanda Rodriguez is back baking them, and Wednesday morning she was turning out about 500 an hour in three ovens. That's about 8½ biscuits a minute, but you need to keep 'em coming when you're serving roughly one person per minute. They're only served hot from the oven, so if they get cold, out they go.
She had no time to stop and talk about it. She shook her head and even with the mask, it was hard to miss a look that pretty much said, "You have got to be kidding."
Richard Lucchesi is the new general manager, taking the spot that former owner Phil Bryant filled for years. Bryant closed the family business in November 2020 after being diagnosed with a brain tumor. Cousins Judd Tashie and David Tashie purchased it, and a few days later also bought La Baguette.